Sept. 7, 2013 5:06 p.m.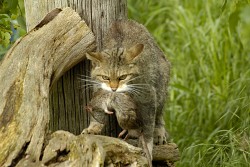 I have to admit, when I see wild rats, my first instinct would be to call a San Francisco exterminator; while domestic rats can make wonderful pets, their wild cousins aren't nearly so friendly, and they are a major public health issue. I guess it's a good thing I'm not on the Dutch police force, because I'd be hauled up in a discipline meeting for plotting against my coworkers!



Dutch police have recruited brown rats to help them in their forensics departments.  See full article.